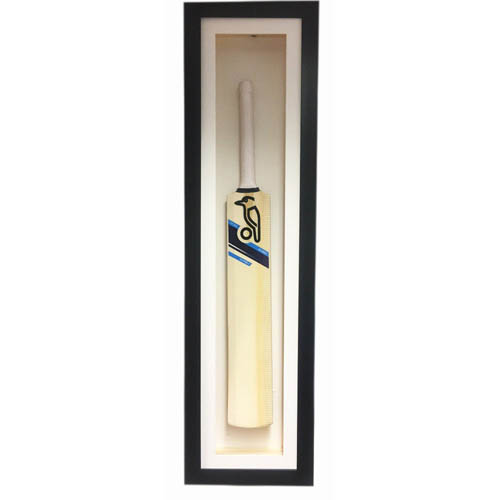 Cricket Bat 3D Display Case for Signed Cricket Bat
£85
Cricket Bat 3D Display Case for Signed Cricket Bat
This is 3D Cricket Display Frame for Any Size Bat and Ball.
Protect and Display your Full Size Signed Cricket Bat.
Normally £150.00 in Any Framing Shop. We are doing for £85. Buy Direct From Manufacturers. Contact us for further information.
This is 3D Cricket Display Frame for Any Size Bat.
All the fixtures and fittings are included.
Option for White or Black Colour Backboard.
- Size Including the Frame 45" x 13" inches.
- 3 Inches Deep 3D Box Frame.
- Any questions please do not hesitate to contact us for further information.
- BAT AND BALL NOT INCLUDED.
- We can provide you with custom size or ANY SIZE TO ORDER as per your requirement basis.
- All frames are made to measure in our UK Workshop hence these frames are non refundable.
- The size mentioned in title is in inches.
- For more details or query : Contact us at 01274 724 411.
cricbat-wtbk
Display your signed Cricket Bat in this amazing designed boxing 3D frame.
Ideal for Home, work, cricket fans, cricket clubs. Charity auctions etc. Looks great.
Easy to open and install into the frame.
Each 3D Frame includes, comes in 6 different frame colours, Perspex front, MDF backing, fixtures to fit the ball into frame
How to put your cricket mini bat into 3D box frame ?




Instructions :-


1. Undo the screw clips from the back of the frame
2. Using the cable ties already fitted with the frame. Put your bat into them cables
3. Adjust the bat until it's straight and secure and tighten the cable from behind.
4. If you need to add more cables from the bottom you can add them or just use a screw from behind the MDF into the bat.
5. Take off the film on both side of the sheet then put back into the frame
6. Put the mount back into the frame
7. Finally the wooden box can go back and you screw back the screws into the frame
8. There are clips to hang the mini cricket bat frame onto the wall
.